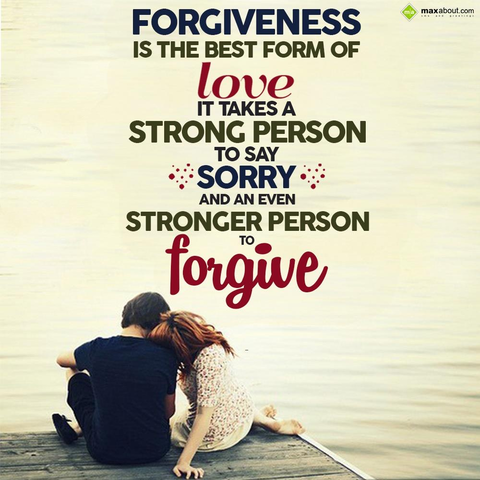 Forgiveness is good for the soul why forgive
Through practice, self reflection, and letting go, yoga helps us move past hurts that threaten to derail us. How can you forgive someone who's hurt you that much! Let's not confuse forgiveness with acceptance. You don't have to condone someone's behavior to forgive.
Forgiveness simply allows us to let go of the hold that person has on us. Forgiving is not the same as forgetting. Not forgetting, honors our feelings and helps create proper boundaries, so we don't keep putting ourselves in situations that are out of alignment with our true nature. Not forgiving however can make us sick.
Think of a person you don't really want to forgive: a parent, an ex-lover, a teacher, a betraying friend. Maybe you believe, that to forgive the person means you're excusing their wrong or that holding on to your anger somehow gives you back the power their offense took away. Or perhaps, as a good spiritual practitioner, you believe you've already forgiven. But if you really look, you might see that the grievance is still part of your story, even part of the meaning of your life.
"I'm this way because s/he did that to me!" you say—he or she being the unloving parent, the unfaithful lover, the guru teacher who didn't deliver or crossed ethical boundaries. The problem is, when you hold on to the grievance, you also hold on to its shadow belief: "I must be flawed in some way to have attracted that hurt." You may have never thought of it this way!
FORGIVENESS IS AN OPENING OF THE SOUL
When your heart forgives, it has stepped beyond the ego.
Letting go is something that is consciously and unconsciously learned by practicing yoga. The gesture of forgiveness is included in the act of exhaling. The expiration is the time when you let go. There are no worries about the future because after exhalation is the inspiration. The expiration is the moment when you pull the sigh of relief. To practice forgiveness, pranayama or breath work is a wonderful discipline. The symbolic gesture and the feeling of the exhale is a way to imagine the heaviness getting lighter.
Meditation is another great way to learn to let go, as it provides a direct route to forgiveness of all kinds. It helps to soften your heart. However, when you are angry it is not easy to sit and let your thoughts bubble to the surface and then dissipate. We are human beings and we have feelings when we get hurt and we suffer. This is when we need to Practice. So when you try to sit and meditate on letting go … first notice what your feelings really are, see where you are & that will help you to conceptualize what happened.
REMEMBER..IT IS A PRACTICE
No one said that forgiving is easy. We humans love to hold on to the drama. We somehow find ourselves connected to the hurt. Yoga is a practice of relieving suffering. Forgiveness allows us to come closer to that.